Join me and many others in our weekly Walk Down Memory Lane. To join in click on Lynnette's button below!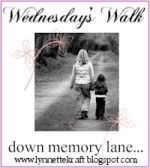 Well today is Josh's 26th birthday so I thought I would share some fun facts and fun pictures of the birthday boy.

He eats pickles on his meatball subs (so gross)
He eats ice cream by putting it in a glass and pours milk over it
He doesn't like chocolate (there is something wrong with him)
He could eat cereal for all meals, everyday
He loves the Pittsburgh Steelers!
and was very surprised today when his parents sent him golf clubs today...
So all in all I think he had a great birthday, full of fun surprises, lasagna and DQ Ice cream cake!
Happy Birthday babe, I love you very much!