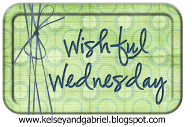 'I wish' I had the start up funds to build that company that I have always dreamt about, and it would be __________!!!
Hands down I would want to open my own event planning business, specializing in weddings but also able to do other events. I love planning stuff, and do a great deal of event planning at the college I work at but I would love to be able to do it full time with brides or corporate events and fundraisers. Or maybe own my own banquet facility to be able to see the whole process through!!
Another part of me is such a resturant kid ( my dad is in the resturant business) that I would love to run my own resturant but I know that is a way crazy life to live.
Honestly, if I had the money I think the sky would be the limit cause as everyone always tells me I want to do it ALL!!!!
Please join in all the fun and click on the button above =0)