Jen from...From A to Z My Life as a "D" nominated me for a blog award!
Thanks so much!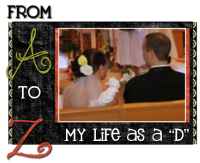 This award is the called the 7 facts/Versatile Award where you list 7 facts about yourself :)

So here at my 7 Random facts...hope they are some things you don't already know!
1. I was born and raised in the snow belt but am absolutely terrifed of driving in the snow. I used to not even get in a car with someone else driving if the roads were bad, now I have no choice. I am known to arrange my whole life around the weather. Sad, but true.

2. I am a Delta Zeta Alum. Joining DZ was the best decision I ever made in my whole life. There is not one second that goes by that I don't miss my sisters more than they possibly know. Being a Delta Zeta has made me who I am today and has brought many wonderful people and opprotunities into my life




3. I never watch college basketball until March Madness (this is so random). The past 3 years I have been in a pool with all of Josh's friends and 2 years in a row I came in 2nd place twice beating all the boys but one! Wahoooooo! Can't wait for it this year :)
4. I love the Cleveland Indians no matter what their record is. Can not wait til opening day!



5. I a so excited to be a bridesmaid in one of my sorority sister's wedding this summer :) She lives in Maryland so I am making it a little vacation and stopping in DC because I have never been there before (and it will finally check something off my 30 before 3o list...which I have been majorly slacking on)

6. Josh and his family keep trying to turn me into a Steeler's fan. Josh even bought me a Steeler's fleece for Christmas. I do cheer for them and hope they win the Super Bowl this week but in the deepest part of my heart I will always hope for a Browns win, if nothing else for my Grandpa
7. Lastly, I am currently doing Weight Watchers online. I had been doing it on my own since May but with all the new changes decided to commit to the online system. It is quite different but I am liking it so far. Since May I am down 30 lbs and never ever ever ever thought I would be able to say that.
I am giving this to all my followers, because I would love to know more about YOU!!