Welcome Back to Wednesday's Walk Down Memory Lane! My favorite part of the week!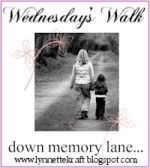 This Sunday my beautiful little sister will turn 4...I have no idea where the last 4 years have gone. So I thought it would be fitting to write about the day I found out I was having another sibling.
I was a junior in college, 20 years old. My own life, my own issues, very selfish etc. etc. I was working at my on campus job when my cell phone rang and rule number one while working at the information desk was never answer your cell phone. Well I knew if my Dad was calling something had to be up or I just always assume the worst, so being the rule breaker that I am...I answered it. We made small talk and then I finally said "Dad..I'm at work what's going on?" and he replied "Are you sitting down?" Which is never good..ever. I replied yes Dad I am sitting down. " We are having another baby"... he said and I jokingly replied...another one???? Truth be told I was very excited but also very scared and honestly I think my Dad was pretty scared too.
A little background....my older brother now 27 and I are very close, me 24, my parents divorced. My Dad and my step mom have Austin, 14 who I was super close to while he was growing up, Zack 12 who is very much like me and here is where it gets tricky Andrew is now 8 years old. I was in high school when he was born and shortly after went to college. I never got to see that little boy and we do not have a very close relationship (as close as you can be with an 8 year old I guess) but when my Dad said he was having another baby and I was on the cusp on graduating college I was convinced I would never see this child and it would never know it's big sister.
I don't really remember when they told me it was going to be a girl..I think I was so excited dates and times didn't really matter. Lauren Morgan is the best thing that ever happened to or family. She is the reason I moved closer to home for graduate school and has brought our family a lot closer together. She is our little princess, spoiled rotten, and the bossiest little girl I know. I wish I could hang out with her everyday...because she just makes me laugh.
I know the years will continue to fly by and soon she will be in school, dating, driving and making me crazy. But she lights up my world and I love her and miss her every day.
So happy 4th Birthday to my favorite little sister!