Seems as though since I said I was taking a break... I haven't...oh well
This Walk Down Memory Lane is long over due and will probably make no sense...but do any of my posts make sense..not really

If you want to join in jump over to Lynette's Blog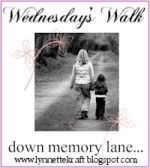 In true Jess Bay fashion this post will be about my family. Two members actually.
I didn't get to post when it was Zack's birthday last week due to my crazy life and today is my step mom Kerry's birthday so we shall

reminisce

about them.
Zack is just like me ( I have never admitted to that until right now). He is very smart but also very much in need of attention at all times and just loves to talk, talk, talk! I honestly do not know how he became so much like me. Just sorta happened. Zack wears glasses or should I say Zack breaks glasses...that boy has gone through pairs of glasses like underwear...hes a mess...just like his sister. I have grown accustomed to the idea of the boys growing up and becoming little men...but I want Zack to just stay little a little bit longer.
My favorite memory of Zack is sports related. I went to a soccer game of
his a couple of years ago and he was playing goalie. Being that this is a team of a bunch of 10 year

olds

I wasn't expecting a world cup performance. But when the coach asked who wanted to sit on the bench and take a break Zack was the first one with his hand up...that is just like his big sister and I love him for it. The kid is

genuinely

hilarious and will probably be a genius someday and I am so proud of him. There is definitely a struggle inside of him between being a boy and being a teenager. When I called to wish him a happy birthday he was so excited to talk to me and tell me about his life...I know those times will end soon (Just ask the 15 year old in my life) so I am enjoying them while they last.
The next person is my step mom. I do not know how old she is today but if I asked she was say "29" so we will stick with that. Kerry is the best step mom I could ask for. She is a great wife to my dad and a fabulous mother to my brothers and sister.
I was about 8 years old or so when my dad married Kerry. I remember her sitting my older brother and I down and explaining to us that she was not going to take the place of my mother and she would never try to. I hold that conversation very near to my heart. I know a lot of people have parents and step parents who do not get along. I am not one of those people. I don't always see eye to eye with everyone but all four of my parents usually got along growing up, which is a blessing...I know. She used to take me back to school birthday shopping every year, and she used to do my hair and all that fun
girly stuff when we would visit my dad's for the weekend. I have always felt like she loved me as if I was her daughter, not someone she inherited through a marriage and I am so thankful for that.
I truly am a blessed, lucky person. I need to remember that more often.
Happy Birthdays! I love you both!