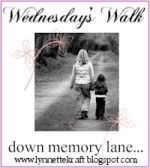 Join me for a Walk Down Memory Lane...if you would like to join just click above!



During my trip to Ohio last weekend, mom and I stopped to pick up Gram to go to my cousin's wedding shower. Since I was wearing a dress and their puppy likes to jump and scratch I opted to stay in the garage. I began to meander around and remember all the time I had spent playing in that garage as a little girl. I began opening some different cabinets, suspecting to find "grandparent" items like gardening tools and such but was very surprised to find items that I used to play with.

As I begin to dig through this cupboard type apparatus I begin to get nostalgic because I begin to realize my grandparents have not thrown away one single thing my brother and I used to play with. A few minutes pass and my mom returns to the garage ready to go with my gram and yells "What the heck are you doing?" and all I could mutter was..."It's my childhood...in a box" and closed the cupboard. But I still can't believe they still have all that stuff. I wish I would have taken pictures of it...my ghost busters binoculars, a ping pong paddle with my brother's name and graffiti all over it and so much more. Including the following:


Two of my by far favorite "toys" I used to play with as a child. I honestly wanted to take out the pop it (directly above) and play with my mom, but I didn't. Oh the memories of being little and all the good times my brother!!
What were your favorite toys as a kid??
Thanks for stopping by!
Jess