It has indeed been awhile but we are going on another walk down memory lane...if you would like to join in click below...it's lots of fun!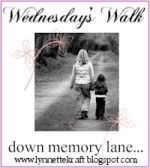 Josh and I have a crazy story of how we actually ended up together but I will save that for another time. We have been together for a year a half and time has completely flown by. Our first date "weekend" which is apparently what you have to have when you live 2 hours away from each other was fantastic. Our official first date was a trip to the National Football Hall of Fame in Akron and then dinner at Cheeseburger in Paradise. The perfect combo cause Josh loves football and I love cheesy themed restaurants. The next day we spent the afternoon watching the Ohio State vs. Michigan game at BW-3's with some friends where he got BBQ sauce all over the sleeve of my shirt (haha). We continued to have twice a month weekend dates which was hard being away from him and balancing it all with grad school and job searching all at the same time. I am so lucky to have him in my life.
Us at BW-3's
Although our relationship had been full of its ups and downs I would be lost without him. I was very weary of jumping into a relationship when Josh and I starting dating but I am so happy that God has put him into my life. Although he may not be as organized as I like, or that he spends entirely too much time playing video games and watching ESPN he is mine all mine and I can not wait to spend the rest of my life with him.
There is no real reason I chose today to write about Josh and I's first date...except for that I don't thank him enough or tell him how much I love him..so this was my chance.
Thanks for stopping by,
Jess